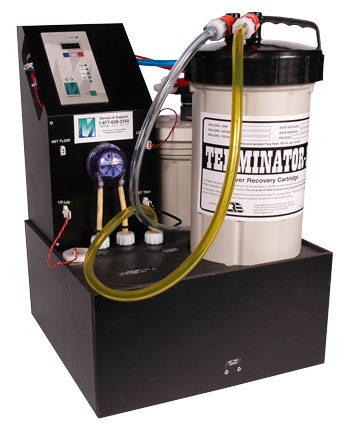 TMS-60IM – Silver Recovery System
Fully Automatic Silver Recovery System with Web-based Monitoring Capability
Self-Priming Peristaltic Pump – No lifting of chemicals. No filters and poppets to block or clean
Fast 500 cc/min Pump – No storage of chemicals, keeps up with production. 3.4 gal/hr
Safe 24 Volt Operation – Low voltage complies with ALL electrical certifications. (UL, CD, CSA)
Advance Design – All components easily replaced, reduce downtime and service maintenance costs
Sample pumps – Takes Inlet and Outlet samples quickly & easily
Spill Containment – No mess, no discharge of untreated chemicals
Flexible Installation (online / offline) – Collect effluent from processor overflow, jugs or optional waste transfer unit
Small & Lightweight – Small floor space and easy to use
MetaTrax enabled – Tracks total effluent processed
Hydrodynamic discharge – Maintains clog-free drains and enables drain carry, eliminates hazardous drain chemicals
Venturi technology – Entrains effluent and reduces electrochemical potential discharge is compatible with drain materials
Saves Water – Efficient 1:1 ration, eliminates random drain flushing
Safe Automatic Operation – No lab staff required, alarms shut off unit and alert staff of a problem.
Terminator
Efficient and economical
A size for every lab
Single Use
Meets environmental discharge requirements in most municipalities
Leak proof construction
Spin-fitting connectors
Gravity flow and metering applications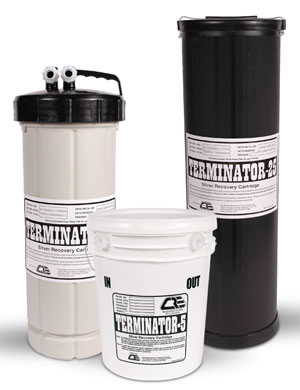 Electrolytic Systems, Metallic Replacement (CRC/MRC) Cartridges, Closed Loop Re-circulation Electrolytic for chemical replenishment reduction, Zero Discharge Distillation Units…are among the technologies available from CRE. From a small dental office to a one-hour photo lab or printer to a major motion picture processing laboratory… CRE will supply the best available technology.
Terminator 5
Container Size: 5 gal
Media Weight: 8 lbs
Max Capacity: 220 gal
Max Flow Rate: 50ml/min
Size: 12.5″ OD x 125.5″ H
Fitting: 1/2″
Metallic Filler: Wound s/w #2
Shipping Weight: 13 lbs
Terminator 12
Container Size: 7 gal
Media Weight: 12 lbs
Max Capacity: 500 gal
Max Flow Rate: 100ml/min
Size: 8.5″ OD x 23″ H
Fitting: 1/2″
Metallic Filler: Wound s/w #2
Shipping Weight: 20 lbs
Terminator 25
Container Size: 8.5 gal
Media Weight: 25 lbs
Max Capacity: 1000 gal
Max Flow Rate: 200ml/min
Size: 10″ OD x 24″ H
Fitting: 1/2″
Metallic Filler: Wound s/w #2
Shipping Weight: 42 lbs
Terminator 36
Container Size: 20 gal
Media Weight: 36 lbs
Max Capacity: 1200 gal
Max Flow Rate: 1000 ml/min
Size: 16″ OD x 28″ H
Fitting: 3/4″
Metallic Filler: Wound s/w #2
Shipping Weight: 55 lbs