Silver Flake/Cartridge Mail-In Program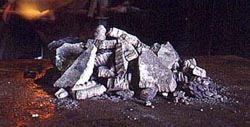 Commodity Resource & Environmental, Inc. (CRE) offers several all-inclusive silver recovery and refining programs for your convenience. All-inclusive programs offer a variety of services which can include recovery equipment, shipping supplies, refining, etc., all at one cost or spot payment. To improve your cash-flow or avoid minimum refining costs charged by most refiners, CRE will purchase your descript by-products such as "scrap film", "electrolytic flake" and "aluminum printing plates" on an as-received per net pound cash basis. No waiting for long out-turns or unknown results.
To avoid minimum refining charges for small quantities, or to improve your cash-flow, or to simply remove the unknown results from a total refining process; CRE offers up to $250.00 per dry pound for your impure electrolytic silver flake at the current $25.00 silver trading market. As the silver market price increases so does your return. To calculate your rate and return, we utilize a spot purchasing factor and multiply the factor by the silver market on the day after receipt. The following factors apply based on received quantity.
Dry Pounds Received   –> –> –>   FACTOR = 10X
(Example: 10 (factor) x $25.00 (silver market) = $250.00 per dry pound; 10 Pounds x $250.00 = $2,500.00)
Notes:
1) The silver flake described must be a by-product of photographic silver generated from electrolytic silver recovery equipment.
2) A representative sample of the material will be oven dried in our assay lab to determine moisture content. Moisture loss, unless previously oven dried prior to shipment, will typically be 1½ % – 4%.
3) The purchasing factor above is based on the net dry content of the material. CRE will supply the shipping containers (with sealed security rings) required for your shipments, as well as all shipping documentation.
4) CRE should be notified of incoming shipments via telephone, fax or e-mail. We will provide advice for the best form of transportation prior to your shipment.
5) You may choose our full refining out-turn process in lieu of spot factor purchasing. See Silver Refining
Cartridge Exchange Program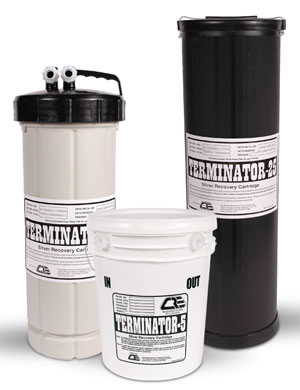 CRE will tailor an all-inclusive refining program for your spent Terminator silver recovery cartridge(s). The typical program includes the cost of the initial cartridge, return packaging and documentation, and all refining and assay costs. Upon notification that you are ready to ship, CRE sends you a replacement cartridge and the cycle continues uninterrupted.
A good example of an all-inclusive cartridge program offered is for our customers utilizing the CRE TMS-60im Metering System with the Terminator-12 silver recovery cartridges (see our Silver Recovery Equipment page for more information on this system.)
You will receive a Terminator-12 replacement cartridge, 2-way shipping containers and labels. Your spent cartridge is refined and assayed as part of this all-inclusive cost. In most cases you will receive an additional payment for the balance of silver recovered.
Commodity Resource & Environmental, Inc. can design an all-inclusive cartridge exchange program for you regardless of the type of metering station and cartridge brand you are utilizing (ie, Hallmark, Academy, Safety-Kleen, etc.) From monster large lab cartridges to a small dental lab cartridge, CRE will suit your needs.
We also offer spot payment for scrap Black & White X-Ray and Graphic Arts film, as well as C-41 Color negative film ends, single use cameras and aluminum printing plates. Click here  to link to our Scrap Film Buyers Page.